How to Clean your Kitchen Efficiently
According to recent research, the average adult will spend three years of their life in the kitchen. It's where we cook and eat, often gather with friends and family, and spend quality time together. 
Given the fact that the kitchen is the heart of any home, it's important to keep it clean and tidy. 
With this in mind, in this blog, we'll walk you through everything you need to know about cleaning the kitchen from sprucing up those counters to shining your sink.
How Often Do You Need to Clean Your Kitchen?
Whereas there are some cleaning activities that should be done on a daily basis, such as 
cleaning the dishes and wiping down countertops, the frequency will depend on a number of factors, including how often you use it and how many people live in your household.
If you have kids running around, work from home, or are a keen cook, your kitchen will naturally need more attention. As a rule of thumb, we recommend cleaning your kitchen at least once a week to prevent grease and bacteria from building up.
How to Clean Kitchen Countertops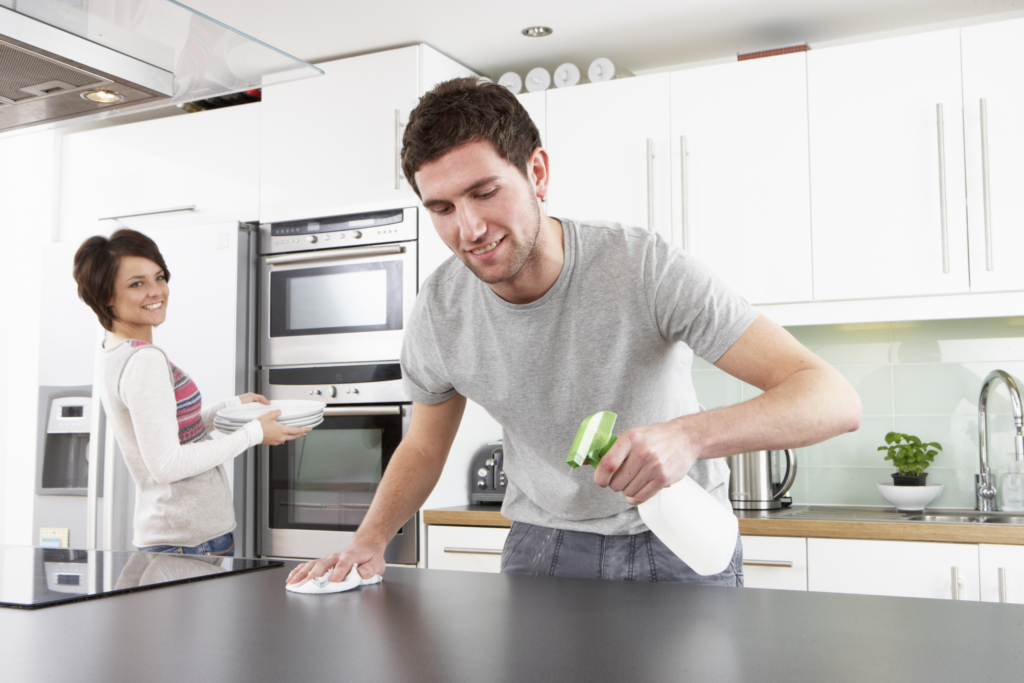 The type of the countertop you have will determine the way to clean it and avoid the damage:
Granite countertops – some warm soapy water is all you need, along with a microfiber cloth. After you wipe down the surface, it's important to buff the granite counter with a dry microfiber cloth to get rid of any streaks.
Laminate countertops – dampen a microfiber cloth in a dishwashing soap solution and wipe the surface accordingly. Do not use any cleaning tools that could scratch the laminate, such as scrub brushes or scouring pads as those can easily damage the surface.
Quartz countertops – naturally stain-resistant, those countertops are easy to clean and similarly to the other types, a dish soap, warm water and a microfiber cloth are the most effective. To keep them shiny, buff up a surface with a dry cloth with a dash of a disinfectant, such as Zoflora that happens to smell just divine! 
Wooden countertops – on a daily basis, simply clean the wooden work surfaces using a damp cloth with a mild detergent solution, such as a dish soap. Avoid using strong, harmful chemicals such as bleach and rough cloths like scouring pads as this can damage the surface.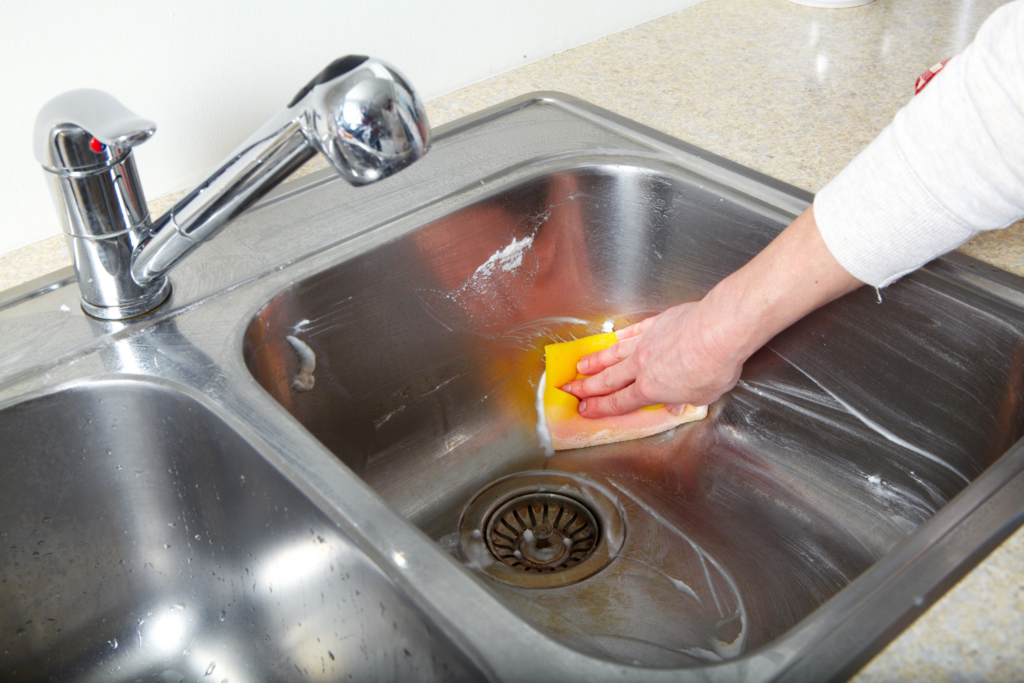 Kitchen sinks are one of the dirtiest household items and therefore require a proper attention. 
Before you start the clean, make sure to rinse away any food, liquids, and debris. This is very important, especially for stainless sinks, as acid and salt from food can damage the finish.
Remember to do this on a regular basis!
As the next step, sprinkle a generous amount of baking soda all over your sink. Squirt some dish soap on a clean sponge and start scrubbing. After a rinse, soak some paper towels in white vinegar and line the entire sink.
Let sit for 20 minutes. This will not only sanitise your sink but also help remove hard water stains.
How to Clean Kitchen Cupboards
If you have a matt finish kitchen, scratches, fingerprints and smudges are usually less visible than on a gloss cabinet. Be sure however to clean them regularly with a mild soap and water solution. You may also want to use a furniture polish to protect them.
For the gloss kitchen units, which are more susceptible to showing marks and stains, soft microfibre anti-scratch cloths are the best choice. To clean, dampen the cloth and use it with a small amount of elbow grease to gently wipe the surface. Follow with a dry soft cloth afterwards.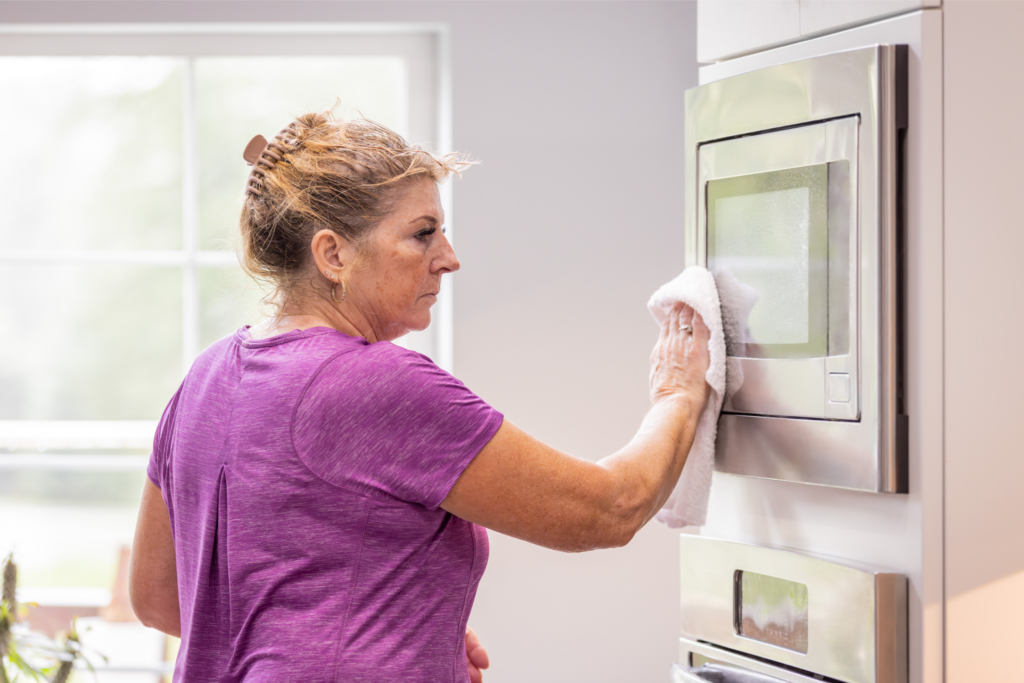 If not cleaned regularly, kitchen appliances can be a breeding ground for germs and bacteria, which can lead to food poisoning and other health problems. We covered more about cleaning appliances and the impact of bacteria here.
Cleaning them will also help to ensure you extend the lifespan of your appliances so you can use them for the years to come.
Microwave – Although you can use a microwave cleaner, we recommend essential lemon oil. Add about 15 drops to a microwavable bowl filled with water and turn on for five to 10 minutes which will allow the steam to build up inside. Afterwards wipe the stubborn stains clean with a sponge or a cloth. It's that simple. 
Read our guide to home cleaning hacks for more tips. 
Oven –  A natural mixture of white vinegar and lemon oil, combined with water is highly effective for baked-on grease. For the tougher stains or when not cleaned regularly, sprinkle baking soda and then apply a generous amount of the mixture and wipe clean with an abrasive cloth.
Fridge – With the amount of food you store in your fridge debris and spillages are bound to build up. To keep it clean, it is important to wipe up any spills as soon as they happen. In addition, the fridge should be cleaned on a regular basis with a damp cloth or sponge using a mild soap and water solution. You may also want to use a disinfectant to kill any bacteria and regularly purge the drain hole.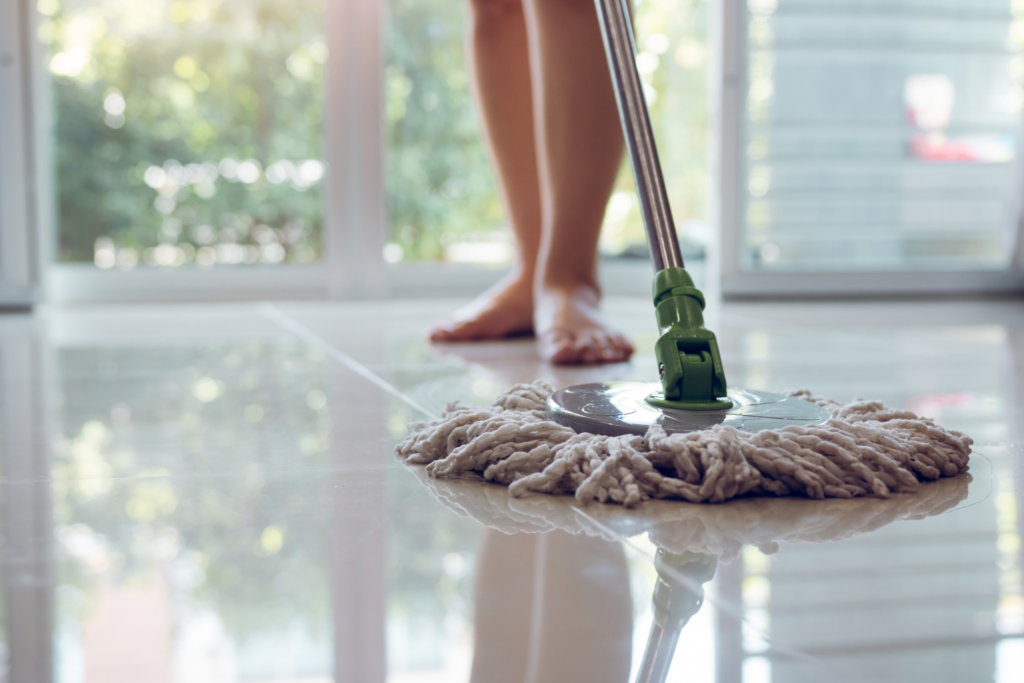 From tiles to wood, there are many different types of floors we have in our homes.
Laminate floors – It's always best to wipe any spillages as soon as they happen. In terms of regular cleaning, vacuum the floor and use a lightly damped mop – water and vinegar are recommended. 
Vinyl floors – Vacuum regularly and mop using a mild detergent. To remove scuff marks, use a cloth dipped in washing-up liquid or white spirit, then rinse off.
Wooden floors – Sweep or use a hoover with the right setting to avoid scratching. When mopping, ensure there isn't too much water or the wood could swell and split.
How Can MAK.today Help Me With My Kitchen Cleaning?
We understand that balancing work, while also keeping the house clean, and having time with family and friends is difficult.
Well, that's where we come in. 
We're an innovative online cleaning platform operating in the London area. We have hundreds of cleaning professionals on our platform just waiting to accept cleaning jobs for immediate start in your area.